Our History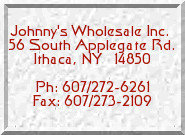 As of 2005 Johnny's Wholesale Inc. operates two A-Frame style trucks, a knuckle-boom crane truck, as well as an 18 foot flatbed truck.

In 2009, we opened our new office on the other end of the building with much needed counter space.

John and Alice Neno grew their business and were successful through strong beliefs of honesty, hard work, and standing behind the products they sold. They took great pride in knowing their customer service was unmatched.

Johnny's Wholesale Inc. is still family owned and operated as we continue to expand our product lines and the practices of family values; honesty, hard work, and commitment.

HOME